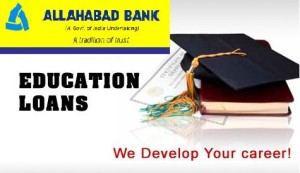 Education loan in India – get education loan details from Allahabad bank and how to approach techniques. Know about Eligibility criteria, education loan interest rates in Allahabad bank, requirements & document required.
Also find the loan details of maximum amount, Courses which are eligible get Study loan. Full details are given below,.
ALLAHABAD BANK—EDUCATION LOAN
Purpose
To provide financial assistance for students who study in India and abroad.
[Useful: C Programming Guide] & [Study Abroad Guidance]
Eligibility criteria for students
Nationality Indian,
Student should have acquired admission for courses in India/abroad through entrance test/selection process.
Read: Eligibility criteria for getting Education Loan
Education Loan Eligible courses
a)      Studies in India
Approved courses to Graduate/ Post Graduate and P.G. Diplomas by recognized Colleges/ Universities recognized by UGC/ Govt./ AICTE/ ICMR/ AIBMS
Courses conducted by IIMs, IITs, NID
Usual Degree/ Diploma Courses – Aeronautical, Pilot Training approved by Director General of Civil Aviation/ Shipping Approved courses offered in India by approved International Universities.
b)     Studies in abroad
For UG: Professional/technical courses offered by reputed Universities.
For PG: MCA, MBA, MS
Read: Top 5 Degrees Preferred by Indian students
Education Loan Margin
Loan up to Rs 4 lakh: NIL
Loan above Rs 4 Lakhs:
(i) Studies in India: 5%
(ii) Studies abroad: 15%
Maximum loan amount
For both studies in India/abroad Rs. 20 Lakhs.
Allahabad Bank Students loan documents Required:
Up to Rs. 4 Lakhs:
Assignment of Future Income
Co-obligation of parents / guardians
No Collateral Security
Above Rs. 4 Lakhs:
Assignment of Future Income
Co-obligation of parents / guardians
Full Tangible Collateral Security
[Useful: Complete Education loan guide] & [Career Guidance for all]
 Allahabad Bank Education Loan interest rates
Major institutions like IIT, XLRI BR+1.50%
Other institutions : BR+1.50% to BR+2.50%
0.5% concession for girl students
1.00% interest concession will be allowed if interest is paid within the study & moratorium period
Study Loan Repayment
Loans up to Rs. 7.5 Lakhs max of 10 years.
Loans above Rs. 7.5 Lakhs max of 15 years