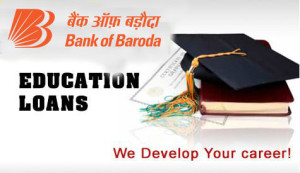 BOB Education loan in India – get student loans & it's detail from Bank of Baroda and how to approach a bank techniques. Know about an Education loan Eligibility criteria, education loan interest rates in Bank of Baroda & documents required.
Also find the details of maximum loan amount, courses which are eligible get Study loan. Full details are given below,.
BANK OF BARODA—EDUCATION LOAN
Purpose
Bank of Baroda's major Aim is to bringing education to the reach of every college student by providing an Educational loans, right from their Technical education to graduation and even P.G (Post graduation).  Some of the various study loan options provided for education by Bank of Baroda:
Baroda Vidhya,
Baroda Gyan,
Baroda Scholar,
Baroda education loan for vocational Training.
[Useful: C Programming Guide] & [Study Abroad Guidance]
Eligibility criteria for students
Nationality Indian,
Secured admission through entrance test/selection process,
Loans will be provided for meritorious students even if he/she is willing to join under management quota.
Read: Eligibility criteria for getting Education Loan
Eligibility courses for Loan:

All approved graduation courses,
P.G and doctorate courses,
Engineering, Agriculture, Medical,Veterinary, Dental, Law, Management, Computer, Ayurveda, Homeopathy, Physiotherapy, Hotel Management, Event Management, Hospital Management, Interior Designing, Architecture, Mass Communication, Fashion Technology,.
Courses approved by UGC/Govt./ AICTE/ AIBMS/ ICMR
Evening courses of institutes approved by State/Central/Govt.AIBMS/ICMR/ICAR/UGC/AICTE.
Courses offered by reputed international universities,
Read: Top 5 Degrees Preferred by Indian students
Expenses
College fee/hostel fee
Laboratory/uniform fee/book fee/equipment/examination fee
Computers/laptops/Tablets
Other expenses such as Travel expenses, study tours, project work,.
Maximum Educational Loan amount granted: Rs. 10 lakhs.
BOB Study Loan interest rates:

For Up to Rs. 4 lakhs: NIL
For Above Rs. 4 lakhs: 5% interest.
Bank of Baroda Education Loan documents Required:
For Up to Rs.4.00 lakhs : No need of any security
Above Rs. 4 Lakhs & up to Rs. 7.5 lakhs: Collateral in the form of a suitable third
party guarantee along with assignment of future income.
Above Rs.7.5 lakhs: Tangible collateral security equal to 100% of the loan
amount along with assignment of future income.
[Useful: Complete Education loan guide] & [Career Guidance for all]
Study Loan Repayment period
120 maximum Installments for loan amount up to Rs 7.50 lakhs.
180 maximum Installments for loan amount above Rs 7.50 lakhs.