Best careers for shy people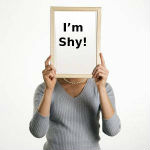 Feeling shy to interact with people around you…….? Looking for a suitable career at your comfort zone? This article provides a list of careers/jobs which is suitable for shy people which involves less human interaction.
INFORMATION TECHNOLOGY:
Is your world jam packed with computers, codes and technology? Then go ahead with IT.  Some jobs which you may feel comfortable with respect to your nature are web designer, software developers, testers, system analyst, network administrator etc. These jobs provide a platform to portray your talent. These people spend ample amount of time with their computers and will have less amount of interaction with the outside world which is what they are looking for.  A bachelor degree in computer science and with a sound technical knowledge can fetch you this job.
Content Writers:
Passionate about writing and have vivid innovative thinking.  Then you can proceed with this choice.  Some of the jobs which come under this category are article writers, content translators.  As a writer you can produce lot of content to web and the writers are self-employed and mostly they work as freelancers.  Bachelor's degree programs in journalism, English and other mass communication disciplines can fulfill the educational requirements for Web content writers.
Finance:
Are you good in mathematics, finance or numeric analysis?  Then jobs under this sector will be useful to you.  Some possible jobs are accountants, credit analyst, finance analyst.  Accountants normally prepare profit and loss statements, monitor financial status of the company, billing invoices, maintaining financial databases. They normally work a lot with data rather than interacting with clients.
Health care
There are a lot of career opportunities available in health care for people who are feeling shy to communicate with others. A degree or certificate program in the field of health information technology can fetch you a job under various categories as follows: lab technician, anesthesiologists, nutritionists, medical transcriptionist, equipment preparer etc where shy people can shine at.
Designer
Are you a person with lot of imagination? Looking for a right platform which suits your nature? This sector will be applicable for you.  There are a lot of behind-scene jobs available under this sector.  Some of them are graphic designers, web designers etc.  Graphic designers can perform lot of activities right from producing designs for magazines, advertisement, product packaging etc.  You can put in your imagination and creativity with your job without any interaction with outsiders.