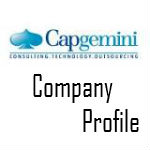 Capgemini IT company profile: Complete details and official website details are gathered and a collection of information is given below. Collection of placement papers download.
CAPGEMINI PROFILE
Capgemini was established in the year 1967 by Serge Kampf. It is a French Multinational company. This company provides IT services and IT consulting and established its foot prints over 48 countries. This company delivers business and technology solutions to its clients all over the world.
[Do you know software companies in Bangalore & details?]
Capgemini Headquarters:
Paris, France
Management Profiles:
CEO & Chairman -> Paul Hermelin
Vision of the company:
Capgemini understands that business value can't be achieved through technology alone. It starts with people: experts working together to get to the heart of your individual business objectives and develop the most adapted solutions to fit these requirements. We believe this human-centered approach to technology is what makes the difference for your business.
Mission of the company:
Our Mission: with you, we create and deliver business and technology solutions that fit your needs and drive the results you want.
Services Provided by Capgemini:
IT services
Business consulting services
Outsourcing services
Capgemini Branches in India:
Mumbai
Bangalore
Kolkatta
Pune
Chennai
Gurgaon
Hyderabad
[Useful: Education Loan Guide]
Branches in abroad:
Belgium
China
Finland
France
United Emirates
United Kingdom
Netherland
Sweden
Norway
Spain
[Read: Top 5 Degrees Preferred by Indian students]
Capgemini Company History:
2000:
–    Acquisition of Ernst and Young consulting.
2002:
–    Focused on delivering IT services.
2003:
–    Merge of Sogeti-Transiciel.
2005:
–    Capegemini sold its North America Health care consulting services to Accenture due to heavy lose.
2006:
–    Acquisition of Future engineering.
[Related: IT Related Studies Abroad]
2007:
–    Acquisition of software architects a US-based consulting company.
2008:
–    Acquisition of Empire and Sophia solution in Eastern Europe.
2009:
–    Acquisition of Nu Solutions.
2010:
–    Capgemini acquires German IT services provider consulting.
–    Acquisition of Plaisir Informatique, a French company.
2011:
–    Acquisition of 2 French companies Artesys and Avantias.
–    Acquired Italian IT service provider AIVE Group.
[Read: Pros and Cons of Using Cellphones in College/School]
Achievements:
–    Won the SAP Pinnacle award for innovation 2011.
–    Awarded as 2012 Microsoft Services Outstanding Collaboration Partner of the Year Award.
–    Awarded JDA FOCUS 2012 with Alliance Partner Leadership Award.
[Read: Why engineering graduates are unemployed in India?]
Employee's count:
Capegemini has the work force of 125,110 employees as on 2012.
Basic salary in India:
Information Technology Consultant -> Rs 325,630 – Rs 1,065,176
Software Engineer -> Rs 196,769 – Rs 649,469
Sr. Software Engineer/Developer -> Rs 204,257 – Rs 846,588
SAP Consultant -> Rs 342,443 – Rs 1,264,009
Official website and FB:
Facebook Fan Page URL : https://facebook.com/Capgemini
Twitter Page: https://twitter.com/Capgemini
Reference : Wikipedia & Capgemini Website.