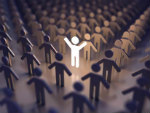 One of the hardest and most exciting choices you'll ever make is your career. There are few factors which must be considered and given due importance. Here in this article I am going to help students/professionals in selecting the career which is suitable for them and also here I am going to list down the factors which should be considered while selecting a career.
Read : Top 5 dangerous jobs in India
Know yourself : There is no substitute for knowing yourself.  Choose a career in which you will feel really very satisfied and feel more contented about doing it.  Money alone is not the major thing in selecting a career of course you can't discount it completely.  For some people money will be important, some people may feel satisfied in serving human, some may look for jobs with flexible work hour, some may look for job which enhances ones creativity and knowledge.  So identify what is your key requirement from your perspective and choose your career.
Read : Why engineering graduates are unemployed in India?
Read as much as you can from net or from other source.  Ask for guidance from your mentors.  If you are interested in a particular field ask for advice from people who are working with that field.  Ask for help from career guidance centers.  A career counselor may understand your strengths and weakness.  They may understand your values and your goals. They will help you in selecting your career.
Related : Top 5 Degrees Preferred by Indian students
Assess your skills.  Identify your area of interest.  Find the qualities which are required for the particular job. Identify the skills which are required to acquire the job which you want.  Study a lot about the company and the employer. Analyze yourself and upgrade your knowledge.  Work towards your passion.  When you work towards your dream you will start loving what you do and your progress will be much faster. Explore the future growth of the job.
Never give up. A person who works hard will be definitely paid with the fruit of success.   Hard work never killed anyone. Don't be afraid in taking risks. If you succeed with it cherish it for your entire life.  If not don't forget that failure is always the stepping stones for success.
Useful : Learn English Quickly
There is nothing called good career.  It depends upon each and every individual's perspective.  I would like to conclude this with a quote that, "A successful career will no longer be about promotion.  It will be about mastery". So have a strong passion, focus, sincerity and dedication in order to make your career a successful one.