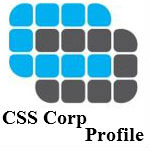 CSS Corporation IT company profile: Complete details and official website details are gathered and a collection of information is given below. Placement papers download.
CSS CORP PROFILE
CSS Corp started in the year 1996 is a global information and communication technology company. This company provides quality services with a focus on delivering strategic value for its customers. This company is present globally across 20 countries.
[Do you know software companies in Bangalore & details?]
CSS Corp Headquarters:
San Jose, USA
Management Profiles:
CEO:  Tiger Ramesh
CFO: Ramesh Kumar
Mission of the company:
100% Referenceable Customers.
Vision of the company:
To be a leading global information & communications technology services group delivering exceptional performance, optimized processes, efficiency, innovation and value to our customers.
Values:
Open & transparent with high standards of professional & personal integrity.
Focused on delivering enhanced value for customers & shareholders.
Innovative & passionate
Having respect & creating opportunities
Socially responsible, responsive & active in our communities.
Tagline of the company:
Hi-tech. Made easy.
[Related: IT Related Studies Abroad]
Services provided by CSS Corp:
Cloud services
Deployment acceleration services
Technical support and customer care
Product and application life cycle services
Infrastructure adoption and operation services
Career and convergence services.
[Useful: Education Loan Guide]
CSS Corp Branches in India:
Chennai
Bangalore
Pune
Coimbatore
Branches in abroad:
Europe -> United Kingdom, Poland
North America -> San Jose, Texas, New York
Asia Pacific -> Singapore, Philippines
Australia -> Sydney
[Read: Top 5 Degrees Preferred by Indian students]
CSS Corp Achievements:
–     CSS Corp has been awarded Top 100 CISO Awards 2011
–     Black book of outsourcing ranked CSS Corp No.1 mid market IT outsourcing firm
–     Won the 'Best in customer service award' at Contact Center World Awards
–     In global outsourcing IAOP rates CSS Corp as the 'Rising star'
[Read: Pros and Cons of Using Cellphones in College/School]
Employee's count:
CSS Corp have the work force of 5,750 employees worldwide
Official website and FB:

Facebook Page: https://www.facebook.com/CSSCorporation
Reference : Wikipedia & CSS Corp Website.