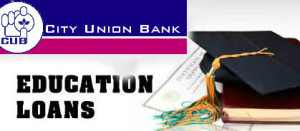 City Union bank education loan -get details from CUB and how to approach techniques. Know about Eligibility criteria, education loan interest rates in CUB & documents required.
Also get the complete details of maximum students loan amount and courses which are eligible to get study loan. Full information is given below,
CITY UNION BANK[CUB]—EDUCATION LOAN DETAILS

Purpose
The CUB-VIDHYAVANI scheme aims in bringing education to the reach of all deserving and needy students with good academic performance.
Eligibility criteria for students
Nationality must be Indian.
Secured admission for Professional / Technical courses via selection process/management.
Age limit will be Above 12 years and Below 30 years.
[Useful: Career Guidance for All] & [Complete Education loan guide]
CUB study loans eligible courses:

a) Courses in India
U.G or P.G courses offered by major universities in India.
Regular courses/diploma courses offered by Government / Autonomous institutions.
Special courses : Aeronautical, Pilot training and more.,
Teacher training or Nursing trainings offered by good institutions in India.
b) Courses in Abroad universities

Job based U.G courses or P.G courses  offered by all major foreign universities.
[Useful: C Programming Guide] & [Software Companies Details]
Expenses included in study loan

Expenses are also included in this CUB education loan. Such as, College fee, hostel fee, Lab fee, uniform fee, book fee, exam fee, study tours, project work amount and more.,
Maximum loan amount granted by City union bank:

In India, Max loan amount of Rs. 10 Lakhs & in Abroad, Max loan amount of Rs. 20 Lakhs.
Related: How to approach a bank for education loan?
Education loan interest rates
For Up to Rs.4,00000 :
Interest rate for Boys will be 13.75%
Interest rate for Girls will be 13.25%
For Above Rs.4,00000 :
Interest rate for Boys will be 14.50%
Interest rate for Girls will be 14.00%
Must Read: Case study on Education Loan
Security for Education loan

Up to Rs 4,00000 : Parent or Guardian's approval for this loan.
Above Rs.4,00000 & Up to Rs.7,50,000 :
Parents or guardian's guarantee with suitable documents.
Third party guarantee.
If the parents/guardian's offers security of immovable property is equal to Rs.7.5 Lakhs, no need of third party guarantee.
Above Rs.7,50,000 :
Third party guarantee + Assets equal to 100% of the loan amount.
Statement of future income of the student for payment of dues.
Read: Best bank for education Loan in India
Documents required for study loan:
ID proof, Address proof and DOB proof.
Admission letter of the Institute along with a copy of Fees schedule, mark sheets and pass records of School and Degree courses.
Few photographs of both the parent and the student.
Loan Repayment Period:

You have to pay the loan amount within 5 to 7 years after the moratorium period.