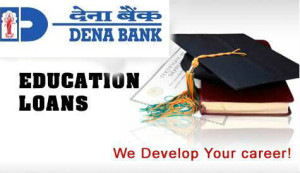 Education loan in India – get students loan details from Dena Bank and how to approach techniques. Know about Eligibility criteria, education loan interest rates in Dena Bank & documents required.
Also find the whole details of maximum loan amount, courses which are eligible get Study loan. Information is given below,.
EDUCATION LOAN IN DENA BANK

Purpose
The purpose of Dena Vidhya laxmi education loan is to financial support for deserving students with good academic records.
[Useful: C Programming Guide] & [Study Abroad Guidance]
Eligibility criteria for students loan
Nationality should be Indian
Student should have acquired admission in any of the Indian or abroad universities.
Eligible courses for this loan

a)   Courses in India:
U.G/P.G courses conducted by AICTE/IMC/UGC/AU
Regular courses/diploma courses conducted by major autonomous institutions.
Regular courses/diploma degree like Pilot training, Shipping, Aeronautical approved by Civil Aviation/Shipping.
Teacher training courses/Nursing courses approved by Central or state Government
b)    Courses in abroad:
Job related professional/Technical U.G courses/ P.G courses such as MCA, MS, MBA, offered by reputed abroad universities.
Dena bank education loan interest rate:
Up to Rs. 4,00000 – NIL
Above Rs. 4,00000:
Study in India : 5%
Study abroad : 15%
Maximum Study loan amount given
Study India: Up to Rs.10,00000
Study in abroad: Up to Rs.20,00000
INTEREST WILL BE CHARGED DURING MORATORIUM PERIOD.
[Useful: Complete Education loan guide] & [Career Guidance for all]
 Students loan Repayment
Loan up to 7,50,000  : 10 years
Loan above 7,50,000 : 15 years
Loan Process Fees
Rs.1,000 for study abroad.