DO's & DON'Ts in Work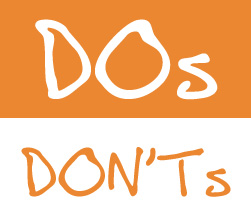 Want to succeed with grow further and succeed in your career? Here are few important do's and don'ts at an office atmosphere which you should be aware of.
Read : Personal & Professional life balance
Do's at office:
Be punctual to office.  No task is difficult until you break up it in to smaller ones.  Maintain a planner.  Put in your maximum effort to accomplish a particular task.  Do work for rewards or appreciation.  Be sincere to your heart and love whatever you do. Manage your time effectively.  Try to complete the task before deadline.
Steve jobs said, "Sometimes when you innovate you make mistakes.  It is best to admit them quickly and get on with improve your other innovations." So don't feel scared or ashamed to accept your mistakes.  Be bold enough to accept your mistakes. No man is perfect.  You never learn new things until you commit mistakes.
You need to learn more in order to keep yourself marketable.  Learning is a never ending process.  Technology changes very frequently.  So you should analyze the requirements based on current trend. We shape our technology and technology shapes us so keep upgrading your knowledge as fast as you can.
Mostly people are always judged by their appearance.  So it is always necessary to have a decent dress code to your office.  Fashion is personal and allows self expression however office is not the right place to express it.
Work hard for your career
Hard work is the most important thing to succeed in any career.  So work hard learn more.  Be focused and committed towards your work.
Always have a habit of congratulating and encouraging your co-workers on their actions.
Read : Top 5 dangerous jobs in India
Don'ts at workplace:
Never gossip about your co-workers or your managers.  If you do not feel or you don't like a person's attitude don't tell anyone.  Keep it in your mind.
Never share your personal problems with anyone.
Maintain your noise levels at office.  Attend your phone calls outside or at your leisure time. Keep your phone in silent mode and in case if it is not silent the ring tone should not be blasting around the entire office.
Never use any social networking sites or chats until you are in demand to use it.
Don't forget to shut down your mobile phones during meetings.
Don't comment on anyone's dress code.
Related : Education Loan Guide