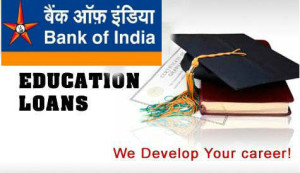 Education loan in India – get students loan details from Bank of India and how to approach techniques. Know about Eligibility criteria, education loan interest rates in BOI & documents required.
Also find the clear-cut details of maximum loan amount, courses which are eligible get Study loan. All details are given below,.
Bank Of India[BOI] – Educational loan
The objective of star educational loan scheme is to provide loan for deserving and meritorious students studying in India and abroad.
Students eligibility criteria for Loan

The student should be of Indian
The student should have a good academic career
The student should not have any pending education loans
Parents should be a co-borrower
The loan shall be obtained from the nearest branch office.
Read: Eligibility criteria for Education Loan
Courses eligible for BOI Education loan
UG and PG courses in India
For Eg: Engineering, Medical, Agri, Law,
The courses which are not approved by AICTE and conducted by Institutes not recognized by particular State Universities are not eligible.
Post Graduation courses like : Master of Business Administration, MCA, MS,.
[Useful: C Programming Guide] & [Study Abroad Guidance]
Expenses considered for education loan
College fee, hostel fee, examination fee, lab fee, purchase of book and other materials fee, uniform fee, fee for study tours, project work, travel expenses.  To acquire this, the candidate should provide a demand letter from the particular institution.
Maximum Loan amount of BOI:

Studies in India – Max of Rs.10,00000
Studies in Abroad – Max of Rs. 20,00000
Study Loan Security:
Up to Rs. 4,00000 : No need of Security
Above Rs.4,00000 & up to Rs.7.5 lakhs : Collateral security required
Above Rs.7.5 lakhs : Co-obligation of Parents + tangible Collateral security of suitable value required
 Rate of interest in BOI students loan

Up to Rs.7,50000 – 3% above Base Rate
Above Rs.7,50000 – 2.50% above Base Rate
For women candidates
Up to Rs. 50,000 interest concession 0.5%
Above Rs. 50,000 interest concession 1%
After the moratorium period the interest concession for professional courses is 0.5%
During the moratorium period the interest concession is 1%.
[Useful: Complete Education loan guide] & [Career Guidance for all]
Repayment
Loan amount up to Rs.7.50 lakhs    :   7 years.
Loan amount over Rs.7.50 lakhs    :  10 years.