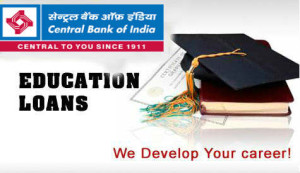 Education loan in India – get students loan details from Central Bank of India and how to approach techniques. Know about Eligibility criteria, education loan interest rates in Central Bank Of India & documents required.
Also find the clear-cut details of maximum loan amount, courses which are eligible get Students loan. Information is given below,.
CENTRAL BANK OF INDIA — EDUCATION LOAN
Purpose
The main objective of Cent Vidhyarthi is to provide education loans for students who are poor and needy.
Eligibility courses in India
U.G courses: B.C.A, B.B.A, B.Com, B.Sc, B.A
P.G courses: Masters & Doctorate (Ph.D).
Professional Courses – Agriculture, Engineering, Medical, Law, Management,. Courses offered by major institutions and Universities in India.
Eligibility courses in abroad
U.G & P.G courses offered by best universities in abroad.
Students eligibility criteria

Nationality: Indian
Study Loan – Age limit: 16 – 40 years
Secured admission to professional courses or any other degree courses through entrance/selection process.
Expenses considered in Study loan:
College/hostel fee
Laboratory/uniform fee/book fee/equipment/examination fee
Other expenses like Travel expenses, study tours, project work etc
Note: The students are subjected to produce the exact receipts.
Maximum amount given
Indian Studies – Max of Rs. 7,50000
Studies in Abroad – Max of Rs. 15,00000
Students loan interest in Central Bank of India:
Up to Rs. 4,00000 – No interest
Educational loan in India: Above Rs. 4,00000 –  5%
Educational loan in Abroad: 15%
[Useful: Complete Education loan guide] & [Career Guidance for all]
Security
Up to 4,00000 : No need of security.  Only co-obligation of parents or guardian is required.
Above Rs.4,00000 & up to Rs 7,50000: Collateral security is required