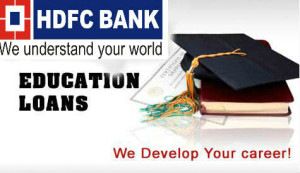 HDFC Education loan in India – get students loan details from HDFC Bank and how to approach techniques. Know about Eligibility criteria, education loan interest rates in HDFC Bank & documents required.
Also find the full details of maximum loan amount, courses which are eligible get Study loan. Information is given below,.
HDFC BANK—EDUCATION LOAN
Purpose
HDFC Bank aims at providing education to the reach of poor and needy students with good academic records.
[Useful: C Programming Guide] & [Study Abroad Guidance]
HDFC's Eligibility criteria for students
Nationality should be Indian
Student with an admission from any of Indian or Abroad universities through entrance tests.
Age limit for study loan : 16 years to 35 years.
Eligibility courses for Students loan

For Management courses : P.G degree.
For Engineering courses : U.G degree.
For Medicine courses : U.G degree + P.G degree.
For Masters in Computer Application (MCA/MCM) – P.G degree
For Architecture : P.G degree is enough.
For Hotel and Hospitality : U.G + P.G degree
For Agriculture : Only P.G degree is eligible
Must Read: Case study on Education Loan
Expenses included in educational loan
Exam fees and Lab fees
Caution deposit or Refundable deposit asked by the institution – bills or receipts needed.
Purchase of Books, study equipments and uniforms,
Travel expenses also included and passage money for study abroad
Purchase of computers and Laptops,
Other expenses related to the course such as study tours(IV), project work.
Read: Banks providing educational loans in India
Maximum loan amount given,
Courses in India  Loan up to Rs. 15,00000
Study in abroad Loan up to Rs. 20,00000
[Useful: Complete Education loan guide] & [Career Guidance for all]
HDFC Education loan interest rate
5 to 15% of the interest rate applied for both, courses in India and abroad.