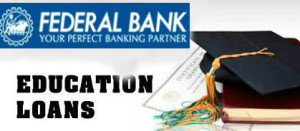 Federal Bank Education Loan -get details from Federal Bank and how to approach techniques. Know about Eligibility criteria, education loan interest rates in Federal Bank & documents required.
Also get the more details of maximum study loan amount and courses which are eligible to get students loan. Full information is given below.,
FEDERAL BANK—EDUCATION LOAN DETAILS

Purpose:
There are two education loan schemes in Federal bank.  One is Special Vidhya loan scheme given to meritorious students are provided with an opportunity to pursue education with the financial support from the bank with affordable terms and conditions.  The other one is Career Solutions Loan Scheme to provide financial support for the deserving and needy students.
[Useful: C Programming Guide] & [IT Companies List]
Eligibility criteria for students:
Students Nationality must be Indian.
Secured admission for Professional / Technical courses by merit /management.
study loans eligible courses:

a) Courses in India
U.G or P.G courses offered by approved universities in India.
Regular courses/diploma courses offered by Government / Autonomous institutions.
Special courses like Aeronautical, Pilot training & more.,
Teacher training or Nursing trainings offered by good institutions in India.
b) Courses in Abroad universities

Job related abroad U.G courses or P.G courses  offered by all approved foreign universities.
Expenses included in Study loan:

Complete College fee, hostel fee.
Laboratory fee, Uniform fee, book fee, exam fee.
Total cost of Computers or Laptops
Other expenses like Study tours and Project work.
Read: Best bank for education Loan in India
Maximum loan amount by Federal bank

In India, Maximum loan amount of Rs. 10 Lakhs given by federal bank & in Abroad, Maximum loan amount of Rs. 20 Lakhs.
Documents required for study loan:
Address proof, ID proof and DOB proof.
Admission letter from the Institute along with a copy of Fees schedule, mark sheets and pass records of School & Degree courses.
Photographs of both the parent and the student.
Related: How to approach a bank for education loan?
Repayment duration:

No repayment during course doing period.
Monthly installments in 5 – 7 years after degree.