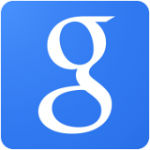 Google IT company profile: Complete details and official website details are gathered and a collection of information is given below about search giant Google. Google company placement papers are also available in our website for free of cost.
GOOGLE PROFILE
Google is an American Multinational Company established in the year 1998. The founders of Google are Larry Page, Sergey Brin. Google runs over one million servers in data centers all over their world. Google was a research project by Larry Page and Sergey Brin when they were both Ph.D students at Stanford University in California.
[Do you know software companies in Bangalore & their details?]
Google Headquarters:
California, United States
Management Profiles:
Co-founder & CEO -> Larry Page
Executive Chairman -> Eric Schmidt
Mission of the company:
Google's mission is to organize the world's information and make it universally accessible and useful.
Strategy:
Create a climate of innovation
Focus on the user
Powered by partnership
Be global, but be truly local
All the devices, all the time
Tagline of Google:
Don't be Evil
Google Products:
Operating systems
Web-based products
Desktop applications
Mobile applications
Communication and publishing tools
Advertising services
Statistical tools
[Related: IT Related Studies Abroad]
Google Branches in India:
Bangalore
Mumbai
Hyderabad
Gurgaon
Branches in abroad:
United States -> Washington, Phoenix, San Francisco, The Dallas, Los Angeles
Canada -> Montreal, Ottawa, Toronto
Latin America -> Argentina, Mexico, Columbia, Peru
Europe -> France, Italy, Hungary, Portugal, Russia, United Kingdom, Switzerland, Sweden
Middle east and Africa -> Egypt, Ghana, Israel, Kenya, Turkey, United Arab Emirates
Asia pacific -> Singapore, Philippines, China, Japan , Australia, New Zealand
[Read: Infosys – IT Company Profile]
Google Company History:
1996:
–          Started a search engine called BackRub.
1997:
–          Renamed the search engine BackRub to Google (derived from the word Googol a mathematical term).
1998:
–          Craig Silverstalin hired as the first employee.
[Related: [TCS]Tata Consultancy Services – IT Company Profile]
2000:
–          Launched MentalPlex
–          Google Toolbar released.
2001:
–          Launched image search
–          Hired Silicon Valley.
[Useful: Final year projects code & Mini projects]
2002:
–          Launched Google news
–          Inaugurated new office at Sydney Australia
2003:
–          Acquisition of Pyra Labs
–          Lauched Google Book search
2004:
–          Sets up office in Dublin
–          Acquisition of Keyhole digital mapping company.
2005:
–          Google image search indexed 1.1 billion images
–          Launched Google analytics
2006:
–          Released Google Talk
–          Launched Google Calendar
2007:
–          Google signed up a partnership with China Mobile
–          Google apps available in 28 languages.
[See Also: Country wise Basic Cost for Study Abroad]
2008:
–          Acquisition of DoubleClick
–          Google released an upgrade for Picassa.
2009:
–          Google released iGoogle
–          Acquisition of On2 technologies
2010:
–          Google voice is available on US
–          Acquisition of ITA.
[Read: Education loan in India]
2011:
–          Acquisition of Motorola Mobility
–          Redesigned Gmail
2012:
– Gmail 2 factor Authentication.
– Social networking website Google Plus launched.
2013:
–  Movies on demand on Google play.
– Google plus Redesigned.
[Related: Study Abroad Guide]
Google Employee's count:
Google has the work force of 53,861 employees as on 2012.
Google Basic salary in India:
Software Engineer -> Rs 268,844 – Rs 1,796,694
Sr. Software Engineer/Developer -> Rs 342,649 – Rs 1,120,952
Account Planner, Advertising -> Rs 241,737 – Rs 971,354
[SEE: IBM – IT Company Profile]
Official website and Facebook:
Facebook Page: https://www.facebook.com/Google
Twitter Page: https://twitter.com/google
Reference: Wikipedia & Google website.