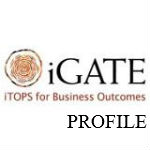 iGate IT company profile: Complete details and official website details are gathered and a collection of information is given below. Placement papers download.
iGate Profile
iGate is an American Multinational Company established in the year February 10 1996. iGate has its footprint across 23 countries. iGate merged with Indian IT service company Patni Computer Systems on 2011. iGate has various industries which includes Financial services, product engineering, Media and entertainment etc.
[Do you know software companies in Bangalore & details?]
iGate Headquarters:
Fremont, California, United States
Management Profiles:
CEO & President -> Gerhard Watzinger [Interim CEO]
Vision of the company:
Changing the rules to deliver high-impact outcomes for a new technology-enabled world.
Mission of the company:
3-30-3-1
The specific milestones that must achieve by 2017.
3: $3 billion in revenues.
30: 30% of total revenue from Business Outcomes contracts.
3: Among the top 3 in the preferred employers' list.
1: No. 1 in earnings growth.
Values:
Citizenship
Passion
Innovation
Respect
Excellence
[Related: IT Related Studies Abroad]
Tagline of the company:
iTOPS for Business Outcomes
Services provided by iGate:
Infrastructure management
Cloud Computing
BPO & CIS
IT Governance
IT consulting
Enterprise application solutions
Business Infrastructure and Datawarehousing
Application management
Application Development
[Useful: Education Loan Guide]
iGate Branches in India:
Chennai
Bangalore
Hyderabad
Gandhinagar
Nodia
Pune
Mumbai
Branches in abroad:
Sydney
Pittsburg
Singapore
Yokohama
Amsterdam
Brussels
[Read: Top 5 Degrees Preferred by Indian students]
iGate Company History:
1993:
–     Launched advanced training center at Pune.
1996:
–     Advanced technology center for skill up-gradation.
1998:
–     Received ISO 9001 certification
–     Sets up development center at Chennai, Bangalore, Pune.
[SEE: Choose your ideal career]
2000:
–     Sets up branches in US, Netherlands, Japan and Singapore.
–     3-year contract with Royal Caribbean Cruises.
2001:
–     Partnership with Versata Inc, a provider of software and services.
2003:
–     Certified as CMM Level 5 company
–     Alliance with Nihon Unisys
2004:
–     Inaugurated new corporate Headquarters at WhiteField, Bangalore.
–     iGate announced multi-year deal to create virtual enterprise for GreenPoint Mortgage.
2006:
–     Multi-year deal with Owens Corning.
–     Strategic IT Partnership with Radian Group Inc.,
2007:
–     Signs up a service agreement with Union Bank of California.
[Read: Pros and Cons of Using Cellphones in College/School]
iGate Achievements:
–     In 2012, iGate won the Golden Peacock Innovation Management Award.
–     Awarded Golden Performance Excellence Award.
–     iGate Ranked among Top 15 'Insurance Industry Vendors offering Comprehensive End-to-end BPO Services'
Employee's count:
iGate have the work force of 27,554 employees worldwide.
[Worth Read: Jobs with high earning potential in India]
iGate Basic salary in India:
Project Leader (IT) -> Rs 498,331 – Rs 1,239,018
Sr. Software Engineer/Developer -> Rs 314,177 – Rs 617,269
Software Engineer -> Rs 240,796 – Rs 405,569
Senior Software Engineer -> Rs 313,795 – Rs 669,773
Official website and FB:
Facebook Page: https://www.facebook.com/pages/iGATE/286415898110195
Reference : Wikipedia & iGate Website.