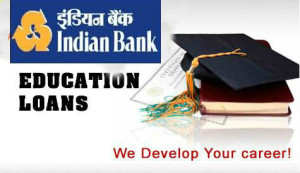 Indian Bank Education Loan Scheme – get students loan details from Indian Bank and how to approach techniques. Know about Eligibility criteria, education loan interest rates in Indian Bank & documents required.
Also find the relevant details of maximum education loan amount, courses which are eligible to get a Students loan. Information is given below,.
INDIAN BANK — EDUCATION LOAN
Purpose
Indian bank provides education loan for deserving/meritorious students to acquire education in their field of interest.
[Useful: C Programming Guide] & [Study Abroad Guidance]
Eligibility criteria for students
Nationality should be Indian,
Should who have acquired admission in professional courses or technical course in India or abroad through entrance test.
Read: Eligibility criteria for getting Education Loan
Eligible courses for study loan

a) Courses in India
U.G courses or P.G courses in any discipline,
b) Study abroad
Job related or professional courses offered by major institutions or Universities Eg: MCA, MS, MBA,.
Must Read: Case study on Education Loan
Expenses included
College fee and hostel fee,
Lab fee, uniform fee, book fee and examination fee,
Other expenses like purchase of computers/laptop, study tours[IV], project work,.
Maximum education loan amount
– Studies in India : Rs.10,00000
– Study Abroad : Rs.20,00000
Study loan amount can further be extended for meritorious students.
Related: How to approach a bank for education loan?
Indian bank education loan Interest rates
Currently 12.50 % Per Anum,
Reduction of 0.50% for girl students.
Security documents required for study loan:

For Up to Rs. 4,00000 : No security
For Above Rs. 4,00000 & Up to Rs.7,50000 : Satisfactory third party guarantee,
For Above Rs.7,50000 : Parents or guardians together with tangible security of suitable value along with future income.
Loan Duration Repayment:
An education loan amount should be repayable within 5 to 7 years.