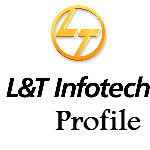 L&T Infotech [Information Technology] IT company profile: Complete details and official website details are gathered and a collection of information is given below. Placement papers download.
L&T Infotech Profile
L&T Infotech is an Indian-based company established in the year 1997. L&T infotech originally called as L&T Information Technology changed its name on April 1, 1997. L&T infotech has established its footprint across 22 countries. L&T Infotech is a certified SEI and CMMM Level  5 organization.
[Do you know software companies in Bangalore & details?]
L&T Infotech Headquarters:
Mumbai, Maharashtra, India.
Management Profiles
Member of the Board & Chief Executive: Mr. Vivek Chopra
Director: Mr. Y. M. Deosthalee
Chairman: Mr. A. M. Naik
Vision and Values:
L&T Infotech's vision is to become:
A globally bench-marked solution provider.
A preferred partner, through creation of high value for customers.
An enriching workplace for employees to excel through innovation and teamwork.
Values:
Agility
Dependability
Innovation
Integrity
Meritocracy & Fairplay
Passion
Teamwork
Tagline of the company:
Our business knowledge, your business edge.
[Related: IT Related Studies Abroad]
Services provided by L&T:
Business processing services
Consulting services
ERP services
Mobility services
Testing services
Architecture
Enterprise integration services
L&T Infotech Branches in India:
Bangalore
Chennai
Mysore
Mumbai
Pune
[Useful: Education Loan Guide]
Branches in abroad:
America
South Africa
Australia & New Zealand
EuropeàFrance, Germany, Denmark, Sweden, Norway, United Kingdom
Asia PacificàSingapore, Korea, Japan
Middle EastàSaudi Arabia, Kuwait, Oman, Qatar, United Emirates
Clients:
Bharat Petroleum
Hitachi
Flowserve
Chevron
[Read: Top 5 Degrees Preferred by Indian students]
Alliances:
Microsoft
Oracle
SAP
Informatica
MicroStrategy
Achievements:
–    In 2007, L&T Infotech was awarded the Best IT Software Award.
–    L&T Infotech ranked the '6th Best Learning & Development Company in India' at World HRD & Education Congress.
–    Won the 'Distinguish Service Supplier' award by FreeScale Semiconductor on 2007.
[SEE: Choose your ideal career]
Employee's count:
L&T infotech have the work force of 15,000 employees worldwide.
L&T Basic salary in India:
Project Leader (IT) -> Rs 336,000 – Rs 1,320,000
Sr. Software Engineer/Developer -> Rs 422,343 – Rs 790,638
Software Engineer -> Rs 248,902 – Rs 544,812
Senior Software Engineer -> Rs 298,631 – Rs 914,647
Official website and Twitter:
Twitter Page: https://twitter.com/LnT_Infotech
Source : Wikipedia & L&T Website.