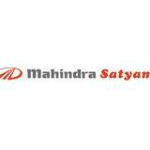 Mahindra satyam IT company profile: Complete details and official website details are gathered and a collection of information is given below about IT company Mahindra satyam. This companies placement papers also available in our interview guide portal. Do you know the other Bangalore IT firms & their addresses?
MAHINDRA SATYAM PROFILE
Mahindra Satyam is an Indian Multinational Company established in the year 1987 by Ramalinga Raju. This company provides business consulting, outsourcing services and IT.
[Related: Final year projects code & Mini projects]
Mahindra Satyam Headquarters:
Hyderabad, India.
Management Profiles:
CEO -> C. P. Gurnani
Chairman -> Vineet Nayyar
Tagline:
Business Transformation Together
Vision:
To be the world's most valued 'ICT' company.
Mahindra Satyam Values:
Customer First
Good Corporate Relationship
Quality Focus
Individual Dignity
Professionalism
Services Provided by Mahindra Satyam:
BI & PM
Business Value enhancement
Product Application and testing
SAP Solutions
Platform solutions
Microsoft Solutions
Industries:
Aerospace and Defense
Chemicals
Education
Manufacturing
Public services
Healthcare and Life Sciences
[Read: Aptitude Practice Area -> Easy & Simple]
Mahindra Satyam Branches in India:
Bangalore
Mumbai
Delhi
Gurgaon
Chennai
Pune
Hyderabad
Vishakapatnam
Branches in abroad:
Europe -> Denmark, Finland, Germany, Hungary, Sweden, Netherlands, Switzerland
Middle East & Africa -> Saudi Arabia, United Arab Emirates, Egypt, Kenya, Kuwait
America -> Canada, Brazil, USA
Asia Pacific -> Singapore, Malaysia, Korea, Thailand, New Zealand, Japan.
[Related: Study Abroad Guide]
Mahindra Satyam Company History:
1999:
–          Assessed as SEI CMM Level 5 company.
2001:
–          Established headquarters at Singapore.
–          Certified as ISO 9001:2000 company.
2002:
–          Inaugurated BPO at Hyderabad
2005:
–          Satyam acquired Citisoft and Knowledge dynamics.
–          Launched FLC framework
2006:
–          Inaugurated "Global Innovation Hub" at Singapore.
[SEE: IT Related Studies Abroad]
2007:
–          Acquired Nitor Global Solutions a UK company
–          Launched development center in Vizag, India and Global Development Center at Malaysia.
2008:
–          Signed up an agreement to acquire Chicago based company Bridge Strategy Group.
[Related: Top 5 dangerous jobs in India]
Achievements:
–          Indian National Scheme Suggestion Association awarded "National Award for Bright Ideas for Idea Junction" in the year 2001-02.
–          Forbes Magazine recognized Mahindra Satyam among Top Asian Companies under US$ 1 billion in the year 2005-06
–          Won the SAP Pinnacle award in the year 2008.
–          Won the SAP partner award in the year 201-13.
[Useful: How to get education loan in India?]
Mahindra Satyam Employee's count:
Mahindra Satyam has the work force of 36,956 employees as on 2013.
Average salary in India:
System Analyst: Rs.52K to Rs. 105K
Computer Programmer: Rs.43K to Rs. 87K
Program Analyst: Rs. 42K to Rs. 85K
Business Analyst: Rs. 46K to Rs. 120K
Official website and Facebook:
Facebook Page: https://www.facebook.com/Mahindra.Satyam
Twitter Page: https://twitter.com/mahindra_satyam
Reference: Wikipedia & Mahindra Satyam website.