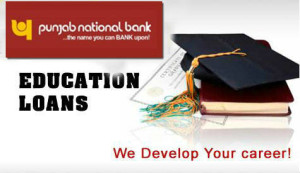 Punjab National Bank Education Loan Scheme – get students loan details from PNB and how to approach techniques. Know about Eligibility criteria, education loan interest rates in PNB & documents required.
Also find the complete details of maximum education loan amount, courses which are eligible to get study loan. Information is given below,.
PUNJAB NATIONAL BANK – EDUCATION LOAN
Purpose
The scheme of Punjab National Bank (PNB) Educational Loan is also known as Vidyalakshyapurti aims in providing education loan for students who really deserve with good academics.
[Useful: C Programming Guide] & [Study Abroad Guidance]
PNB's Eligibility criteria for students
Nationality should be Indian,
Student with admission from any Indian or abroad universities through entrance tests.
Read: Eligibility criteria for getting Education Loan
Eligible courses for PNB study loan

Regular courses like B.A., B.Sc.,B.Com.,B.CA.,
P.G courses like Masters degree and Ph.D,
Professional courses like Engineering, Medical, Dental, Agriculture, Law, Management,.
Special courses such as Pilot training, Aeronautical approved by national and state authorities.
Related: How to approach a bank for education loan?
Maximum loan amount
Study in Abroad : Maximum Rs. 20,00000
Study India : Maximum Rs. 10,00000
Security Documents Required

Up to Rs. 4,00000 : No Security.
Above Rs.4,00000 and up to Rs.7,50000 : Third party guarantee required,
Above Rs.7,50000 : Security of suitable value or Parents or Guardian's guarantee along with the future income.
Must Read: Case study on Education Loan
Loan Repayment Duration

Time Period: Course period + 1 year or 6 months,
Should be paid within 5 to 7 years after the degree.
Duration can be extended up to 2 years [If required].