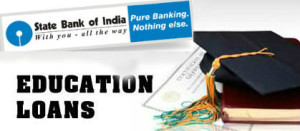 State Bank of India education loan -get details from SBI and how to approach techniques. Know about Eligibility criteria, education loan interest rates in SBI & documents required.
Also find the complete details of maximum amount for students loan, courses which are eligible to get study loan. Information is given below,.
STATE BANK OF INDIA[SBI]—EDUCATION LOAN
Purpose:
Providing educational loans for students who are planning to study in India or abroad.
[Useful: C Programming Guide] & [IT Companies List]
Eligible courses for Study loan

a)  Courses in India
U.G courses/P.G courses conducted by AICTE/IMC/AU/UGC,
Regular courses or diploma courses conducted by approved autonomous institutions,
Special courses or diploma courses like Pilot training, Aeronautical approved by Civil Aviation.
Teacher training / nurse training courses approved by central Government or State Government,
b)  Courses in Abroad
Job based professional or technical U.G courses or P.G courses offered by major abroad universities.
Maximum Loan amount given
Study in India, maximum of Rs. 10,00000
Study Abroad, maximum of Rs. 30,00000
Expenses considered in study loan

College fee and hostel fee,
Lab fee, uniform fee, book fee and exam fee,
Other expenses like Study tours[IV], Project work and more,.
Read: Who can use Education Loan?
SBI education loans Interest rate:

For loans up to Rs.4,00000 interest rate will be 3.50% above Base Rate, now 13.20% P.A.
For Above Rs.4,00000 and up to Rs.7,50,000interest will be 3.75% above Base Rate, now 13.45% P.A.
For Above Rs.7,50,000 : 1.75% above Base Rate, now 11.45% P.A.
Interest concession available for Girl students will be 0.5%
Must Read: Case study on Education Loan
Documents required:
PAN Card or address proof of the student & the Parent or guardian.
Income tax Returns or IT assessment order[If required].
Statement of assets and liabilities of the parent or guardian.
Proof of current income.
Statement of admission scholarship/merit.
Expenses details for the particular degree.
Mark related records of last qualifying examination,
Few photographs of an applicant.
[Useful: C Programming Guide] & [IT Companies List]