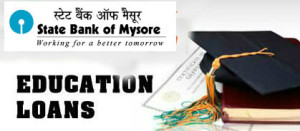 State Bank of Mysore education loan -get details from SBM and how to approach techniques. Know about Eligibility criteria, education loan interest rates in SBM & documents required.
Also find the complete details of maximum amount for study loan and courses which are eligible to get students loan. Information is given below,.
STATE BANK OF MYSORE[SBM]—EDUCATION LOAN
Purpose of the Loan

The objective of Gnanamitra Education loan is to bring education in the reach of students with academic brilliance.
[Useful: Career Guidance for All] & [Complete Education loan guide]
SBM Education loan's Eligibility courses

In India, U.G/P.G degree courses in the field of Engineering, Technology, Medicine, Architecture, Agricultural Science, Dental Science,  Veterinary Science & Computer Certificate courses of approved institutes.
In abroad, eligible courses like MS,.MBA and more,.
Maximum loan amount granted
Study in India, maximum of Rs. 10,00000
Study Abroad, maximum of Rs. 20,00000
Interest rates (including Vocational Education & Training)
For loans up to Rs.4,00000 interest rate will be 13.75%
For Above Rs.4,00000 and up to Rs.7,50,000 interest will be 14.25%
For Above Rs.7,50,000 : 12.25%
Related: How to approach a bank for education loan?
Security for Study loan

Educational loans up to Rs.4,00000 : No security required.
Above Rs.4,00000 and up to Rs.7,50,000 : Security in the terms of third party guarantee.
Above Rs.7,50,000 : Immovable property or equal to the loan amount in the terms of Government securities.
Must Read: Case study on Education Loan
Documents required for Loan:
Address proof of the student & the Parent.
Proofs of assets and liabilities of the parent or guardian.
Proof of current income [May be salary slip].
Statement of admission in a college.
Expenses details for the particular course.
Mark related records of last qualifying exam.
Few photographs of an applicant.
[Useful: C Programming Guide] & [IT Companies List]