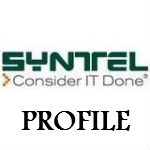 Syntel Inc., IT company profile: Complete details and official website details are gathered and a collection of information is given below. Placement papers download.
SYNTEL PROFILE
Syntel was established in the year 1980 at Troy Michigan, USA. Syntel has over 2000 global clients and help them operate their business more efficiently. The founders of Syntel are Bharat Desai and Neerja Sethi. Initially the company began providing software staffing services for the local corporation.
[Do you know software companies in Bangalore & details?]
Syntel Headquarters:
Troy, Michigan, USA
Management Profiles:
CEO: Prashant Ranade
Chairman: Bharat Desai
Mission of the company:
To create new opportunities for the clients by harnessing passion, talent and innovation.
Values:
Simple
Smart
Speed
Stretch
Synergy
Tagline of the company:
Consider IT done.
Services provided by Syntel:
Application development
Application Management
Architecture Solutions
Migration
Mobility solutions
Infrastructure services
KPO
Syntel Branches in India:
[Read: Study Abroad Guide]
Branches in abroad:
Singapore
Germany
Australia
Hong Kong
[Related: IT Related Studies Abroad]
Syntel Company History:
1988:
–    Began providing full life cycle maintenance
1992:
–    Global development center in Mumbai and Chennai
1994:
–    Revenue crossed US$ 50 million
1994:
–    Inaugurated development center at North Carolina, Cary
1997:
–    Went public in August.
1998:
–    Certified as ISO 9001
2000:
–    Started offering BPO services.
2001:
–    Global Development centers certified as SEI CMM Level 5.
[Useful: Education Loan Guide]
2002:
–    Launched development center at Phoenix, Pune
2003:
–    Development center at Chennai and Mumbai certified as ISO 9001:2000.
2004:
–    Dedicated BPO center at Delhi
2008:
–    Revenue reaches US $400 million
2010:
–    Syntel opens up the first phase of Chennai Technology Campus
[Read: Top 5 Degrees Preferred by Indian students]
Achievements:
–    Forbes ranked Syntel as No.27 for the 100 best small companies in 2011.
–    DataQuest Ranked Syntel as Top 20 BPO provider, Top 50 ITO provider.
Employee's count:
Syntel have the work force of 21,407 employees worldwide.
[SEE: Choose your ideal career]
Syntel Basic salary in India:
Project Leader (IT) -> Rs 518,301 – Rs 1,101,453
Sr. Software Engineer/Developer -> Rs 364,082 – Rs 1,021,286
Software Engineer -> Rs 212,091 – Rs 494,381
Program Analyst -> Rs 254,676 – Rs 591,795
Official website and FB:
Facebook Page: https://www.facebook.com/Syntel
Source : Wikipedia & Syntel Website.