Tips to overcome exam fear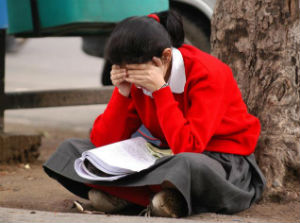 Some students may panic before exams. The biggest enemy of success is fear of failure.  So, how to overcome exam fear? Here are few useful tips to overcome exam fear:
Colin Powell said, "There are no secrets to success.  It is the result of preparation, hard work and learning from failure." Preparation is the half-way to success. Some of the effective exam preparation techniques are notes taking, group based revision, having a planner and sticking to it.
Don't study for hours continuously without taking a break.  Take break frequently. Some ways to make yourself feel relaxed are have cup of tea, listen to music, muscle stretching and breathing techniques.   If you are so tensed during exams close your eyes, take a deep breath.  Repeat this twice then start writing your exams.  Some students may find muscle stretching techniques useful. If so before or during a test you start to panic, stretch as hard as you can, tensing the muscles in your arms and legs, then suddenly relax all of them. This will help relieve tension.
Related : How to score high marks in exams? : Easy and possible methods
Time management is the crucial thing while writing exams.  Allocate time to each and every question based on the marks.  Before attempting a question try to recall all the key points and then start writing.  This will help you to present more confidently. Don't spend much time on the questions which you are not very sure off.  Try to attend the questions which you are confident about.  If you are confused while writing a question leave some space on paper and try to attempt it at last. Try to complete your exams before 10 minutes of time.  This will help you review your answer sheets and will help you correct some questions in case if you have attempted it wrong.
Related : Learn English quickly…How?
Feel confident before exams.  Think positive.  Never forget that "Hard work never fails".  So be focused, confident, sincere and dedicated while preparing and also while writing the exams.
Download all the sample question papers.  Once you are done with your preparation take up mock tests.  Review your answer sheets by yourself.  Then try to find your strong and weak areas.  This will help you to score better in your exams.  This technique will also help you to manage your time effectively during your exams.
Related : Learn & Practice Aptitude
Have a proper sleep before exams.  Don't attend exams with empty stomach. Have some food or fruits. Be punctual to your exams. Avoid last minute study.
Related : Top 5 Degrees Preferred by Indian students