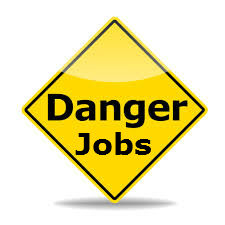 For many people job is not meant only for earning money but they are not sure whether they will work for the next day. They are putting their lives at risk every single day.  This article mainly focus on jobs which is life threatening and most dangerous. Here is the list of top 5 dangerous jobs in India.
Agriculture based business is also one of the dreadful business in India.  Farmers face a lot of difficulties right from weather, marketing and also diseases.  Lack of proper irrigation is also one of the hurdles faced by a farmer.  In India many farmers have committed suicide because of the loss they have faced in agriculture.  Analysis says that 17,500 farmers committed suicide in the year between 2002 and 2006.  In 2008, 16,156 farmers have killed themselves and in 2009 approximately 17,360 have died.
Recommended Reading : Balancing Work & Life
Fishing is the most dangerous job not only in India but all over the world.  For example, in the United States of America the fatality rate at an average of 160 per 100 000 is 25-30 times the national average; in Australia, the fatality rate for fishers is 143 per 100 000 compared with 8.1 per 100 000 nationally.
Garbage collectors face the high potential health risks.  They never knew what kind of hazardous materials they collect during their duty.  Right from papers to pesticides even radioactive materials become a common thing which is been used by people.  They may suffer face the risk of injury, infections, poisoning or burns and even respiratory damage.
Related : Top 5 Degrees Preferred by Indian students
Pilots are those people who come next in this order. In 1965, during the India-Pakistan war Balwantrai Mehta, the Chief minister of Gujarat, was killed in the crash along with his wife, three members of his staff, one journalist and two crew members On September 2,  2009 Andra Pradesh helicopter crash includes fatalities 5 which includes Y. S. Rajasekhara Reddy, the Chief Minister of Andhra Pradesh. On 9th April 2011, Tawang Town Mil Mi-17 met with an accident.  Reports say that 17 of 23 passengers and crew were killed in the accident.
India has the highest number of road accidents.  India overtook China with 130,000 deaths and continues to increase steadily.  A survey says that 40 people under the age of 25 die every hour around the world.  So the truck drivers face risks and may even get themselves killed.
Related : Why engineering graduates are unemployed in India?
Fire fighting is a life-threatening job.  They face a few obvious risks like getting themselves burnt or being crushed or might also face a lifelong damage.  Firefighters also learn some life saving tricks not only for themselves but also for the victims.