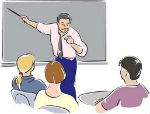 Horace Mann said that, "A teacher who is attempting to teach without inspiring the pupil with a desire to learn is hammering on cold iron." So in order to become a better teacher/lecturer this article provides you some of the tips.
As a lecturer you should remember the fact that you people should set as an example for students.  The students normally get inspired by good teachers so thereby they become the role model for the students.  So you should have a very good attitude which all the students expect from their teachers.
To become a better teacher tomorrow one should have a positive attitude.   As a teacher you should approach each and every thing in your life to be positive.  You should be optimist rather than a pessimist.  This is one of the great quality which a good teacher should posses.
Patience is an important quality to become a better teacher.  Not every students will be disciplined or have same kind of attitude.  A teacher might face students with good as well as bad attitude.  So a teacher should not act rude with the students of bad attitude instead they should move more friendly with students who are not disciplined and make them understand their mistakes and help them in understanding their roles and responsibility.
A better lecturer should treat every student equally.  There should not be any discrimination for a group of students.  Whenever a consequence is brought to the notice of a teacher you should handle them effectively without as discrimination.
As a better instructor you should have a very good knowledge in the subject matter.  You should explain things in such a way that which is understandable for everyone.  Every student is not provided with the same level of talent.  So you make things simple enough so that it will be in the reach of every student.
In order to become a better teacher you should be a good listener as well.  A good way of teaching is that in which communication is carried out in two ways.  You should create a friendly atmosphere so that the students feel free in communicating their thoughts and clarifying their doubts.  So you should provide your attentions as much as possible while the students are explaining things or while the students are asking doubts.
You should track the performance of the students and convey your views to them at least once in a month.  This will help the students to understand their strengths and weakness.  So that they could improve their selves.
So, in order to become a good teacher you must possess the above mentioned qualities.