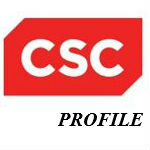 CSC[Computer Sciences Corporation] IT company profile: Complete details and official website details are gathered and a collection of information is given below. Placement papers download.
CSC PROFILE
Computer Science Corporation (CSC) is an American Multinational Company established in the year 1959, April by Roy Nutt, Fletcher R. Jones and Bob Patrick. Their goal was to design programming tools such as assembler and compilers. CSC is a SEI CMMM Level 5 company which provides innovative solutions for its customer around the world. CSC had its contract with Honeywell which made their business profitable.
[Do you know software companies in Bangalore & details?]
CSC Headquarters:
Falls Church, Virginia, United States America
Management Profiles:
CEO: John Michael Lawrie
Mission of the company:
The mission of CSC is to be a global leader in providing technology-enabled business solutions and services.
Values of the company:
Client focused
Leadership
Execution excellence
Aspiration
Results
Tagline of the company:
Experience Results.
[Related: IT Related Studies Abroad]
Services provided:
IT services
Business consulting services
Outsourcing services
Branches in India:
Chennai
Bangalore
Mumbai
Hyderabad
Noida
Indore
Vadadora
[Useful: Education Loan Guide]
Branches in abroad:
Seattle
Atlanta
Los Angeles
Pennsylvania
New York
Texas
Alabama
Georgia
[Read: Top 5 Degrees Preferred by Indian students]
CSC Company History:
1959:
–   CSC was hired by Honeywell to develop business-language compiler called FACT
1990:
–   Launched Hubble space Telescope
1991:
–   Signed a $3 billion contract with General Dynamics
1993:
–   100% ownership of CSC Austria.
[Read: Pros and Cons of Using Cellphones in College/School]
1994:
–   CSC signs up a contract with BAE Systems for outsourcing
1996:
–   CSC acquired Continum company
1997:
–   Van Honeycutt elected as Chairman
1998:
–   CSC was selected by IRS contract to modernize U.S. tax system
1999:
–   Merge of Nichols Research with CSC.
[Read: Why engineering graduates are unemployed in India?]
2000:
–   Acquisition of BHP IT
2001:
–   Revenue crossed US$ 10 billion
2003:
–   Acquisition of DynCorrp
2005:
–   IRS receives the first release of modernize system supported by CSC
2006:
–   Datratrac acquisition
2007:
–   CSC launched the project of Accelerate
2008:
–   Revenue crossed US$ 15 billion
–   Launched data center in china
2009:
–   CSC announced Cloud Services
–   CSC celebrates it 50th year
2010:
–   CSC launched Facebook page
–   CSC inaugurated the alumini network
2011:
–   Acquisition of iSoft(Australia)
[Worth Read: Learn English quickly…How?]
Achievements:
–    CSC ranked top 50 Greenest company in America
–    Fortune magazine ranked CSC as the "World's most admired Company".
–    Software magazine ranked CSC in No.8th position as the world's largest software and service provider
–    Military training technology selected CSC as the Top simulation and training company
Employee's count:
CSC has the work force of 96,000 employees worldwide.
Basic salary in India:
Project Manager, Information Technology (IT) -> Rs 584,059 – Rs 1,674,179
Sr. Software Engineer/Developer -> Rs 328,848 – Rs 872,439
Software Engineer -> Rs 278,381 – Rs 698,035
Senior Software Engineer -> Rs 387,194 – Rs 920,329
Official website and FB:
Facebook Page: https://www.facebook.com/csc
Reference : Wikipedia & CSC Website.